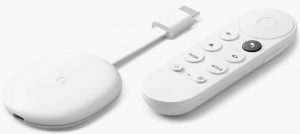 There's also voice control, if you press the Google Assistant button on the new remote.
Basically, you can 'Cast' the content from compatible Android and iOS apps directly from your phone, laptop, or tablet on to your TV. And you can also mirror your Chrome browser tab, too.
Google has updated Chromecast a couple of times before, and this latest version sees the addition of a GUI bringing in Google TV, with stronger visuals and more viewing options. It is running Android TV as the OS.
The new version will also present personal recommendations based on what you've watched and what could interest you – Google has knowledge of your behaviours and choices, of course – from across your subscriptions and the content available to you. And if you're stuck to identify a show's title or content, you can get Google to search for it – search is newly integrated.
Chromecast with Google TV now has two components. As wells as the Chromecast unit itself, which plugs into your TV's HDMI port, there is also a Voice Remote (running on 2 x AAA batteries). A power cable and adopter for the Chromecast is supplied.
Two services are privileged on the Voice Remote: YouTube and Netflix have dedicated buttons.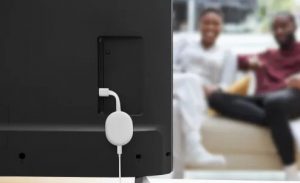 Chromecast Specs
It requires a TV with High-bandwidth Digital Content Protection (HDCP) 1.3 or higher built in, and HDCP 2.2 is required to support 4K content. Most televisions that are five years old or newer and have HDMI ports will have at least one port that supports HDCP 2.2, says Google.
Video formats supported include Dolby Vision, HDR10 and HDR10+. Audio formats supported include Dolby Digital, Dolby Digital Plus, and Dolby Atmos (pass-through).
For 4K content, you will also need an Internet connection supporting at least 20 Mbps, it adds.
The device works with Android 5.0 or later and iOS 12.0 or later.
Note that, because of the voice control option, the Google Assistant is required for full functionality.