January Jones has become something of an accidental influencer in recent months as the Mad Men star's chaotic Instagram has fans intrigued.
One of the actress' latest post has raised a few eyebrows—in the best possible way.
Jones, 42, joked about taking a bath in beer and linking it to Cleopatra bathing in sperm.
A fan tweeted stills from the story from September 29with the caption: "January is self care posting again and just poured beer in her bath because she read that Cleopatra used to bathe in sperm (?) and it 'can't be that different depending on who you've dated.'"
Newsweek subscription offers >
They added: "This is by far one of the greatest videos she's ever posted but the yeast implications are terrifying me."
Newsweek subscription offers >
The tweet has since gone semi-viral garnering more than 11,000 likes at the time of reporting.
One fan commented: "January Jones is chaotic and honestly I'm here for it."
While another Twitter user added: "I am obsessed with this specific brand of weird white woman."
In the post, Jones gave a glimpse into her quarantine lifestyle where she laid down on the floor of her closet because "Mares is in retrograde or something."
"Welcome to the floor of my closet. This is where I go when I'm feeling down, and right now Mars is in retrograde or something and everything in my house is falling apart," she explained.
"So I wanted to lay here and look at pretty shoes and bags and things. Come up with outfit ideas for when we have the chance to get back into that world."
Jones said she wanted to put on "a dress and jewelry and my eye makeup," because "sparkly things cheer [her] up." She then took her followers through her "four-step process" to lifting her mood—relaxing, skin care, a bubblebath, and adding beer to said bath.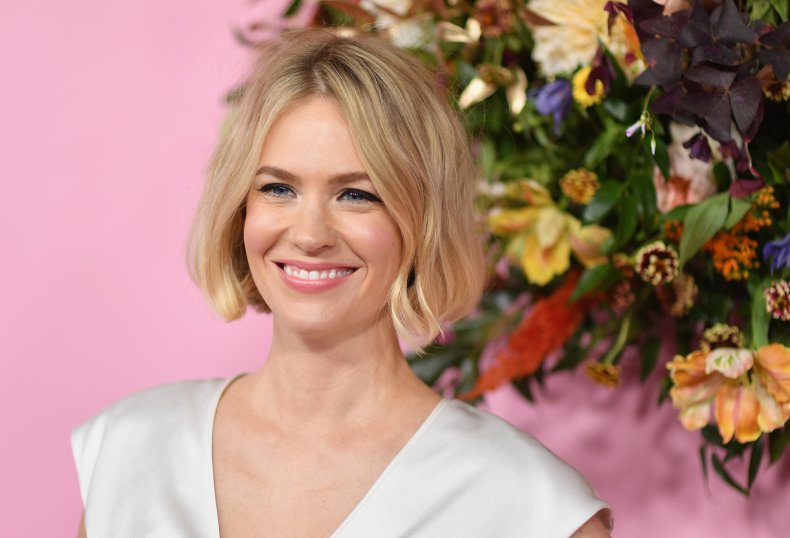 "I put a lot of questionable things in it," Jones said of her bath. "And I'm gonna put one more questionable thing in it, which is my step four," before revealing that the final step was to enjoy a drink of your choice.
"I'm doing that because I feel like it's going to be hydrating for my body, and I recently read about what Cleopatra would put in her baths," she said pouring beer in the tub. "I just feel like, depending on who you've dated, it can't be that much different, right?"
Jones signed off by instructing her fans: "Take care of yourself, date yourself, love yourself."
Jones' entertaining Instagram account has caught the attention of many over lockdown, as the actress steady poolside posts and Mad Men throwbacks have kept the Betty Draper one million followers entertained.
Last month, the New Yorker published a piece titled: "January Jones' Very Un-Betty Draper Quarantine," celebrating Jones's "affection for her on-screen avatar."